News
Warren Buffett Turns Positive on Gold, Negative on Banks - Nathan McDonald (August 21, 2020)
August 21, 2020
The writing is on the wall, and as I have written about numerous times, Central Banks are well aware of the necessity to move a significant portion of their reserves into gold bullion, which is exactly why they have been net positive buyers over the last couple of years.
Central Banks have been steadily increasing their holdings while the rest of the masses foolishly ignored the safety of precious metals, even while the risks continued to mount all around them.
This of course does not include everyone, but in the grand scheme of the investment community, those who have partaken in the steady accumulation of precious metals are a dedicated-but-small percentage of the overall markets.
I believe that this is set to change—and in a very significant way.
One of my predications at the start of this year was that 2020 would see the institutional investor change their opinion on investing in precious metals, leading to a boon for the metals as the "smart money" began to pile into both gold and silver bullion, resulting in a renewal of the bull market.
This is exactly what we are starting to see, as arguably the most renowned investor in the world, Warren Buffett, has made a significant move into the precious metals marketplace.
Warren Buffett Moves on Gold
On August 14th, there was a 13F filing update within the United States, which gives valuable insight into what the "smart money" is currently buying.
Many other market participants respect these investors and will often take their lead, investing their funds into what the "smart money" has already moved in on, often causing a self-fulfilling trend to occur.
Warren Buffett is one of the most-watched names within these filings, as he has been heralded by many as one of the greatest investors of all time.
Therefore it shocked and stunned many within the markets when it was revealed through these 13F filings that Berkshire Hathaway's activity showed a drastic change in course, with the fund making a major move on the Canadian mining company Barrick Gold.
As indicated through the filings, Berkshire Hathaway purchased 21 million shares, which equates to nearly $564 million worth of Barrick Gold, making it one of the largest investments for Warren Buffett in 2020.
This comes as even more of a shock given Warren Buffett's historic disdain for investing in precious metals.
To those who do not believe in the protection that precious metals can offer in a time of crisis, this severe change in course from one of the most seasoned investors should come as a major warning as to just how dire things have become.
Buffett Turns Negative on the Broader Markets
The other cause for concern—one that should make many investors who are blindly buying into this artificially-inflated stock market think twice—is not only what Buffett bought, but also what he sold.
In what many consider to be a negative indicator for the U.S. economy moving forward, Warren Buffett dumped almost the entirety of his shares in Goldman Sachs, selling nearly 2 million shares of the stock.
And he didn't stop there.
In addition, Buffett also sold out of 61% of his position in JPMorgan Chase and nearly a quarter of his position in Wells Fargo.
Finally, as indicated in the 13F filing for Berkshire Hathaway, they heavily sold out of their position in airline companies, further indicating that he likely sees a prolonged downturn for the U.S. and even global economy.
Famed precious metals and bitcoin bull Max Keiser gave his opinion on what these moves by Buffett mean: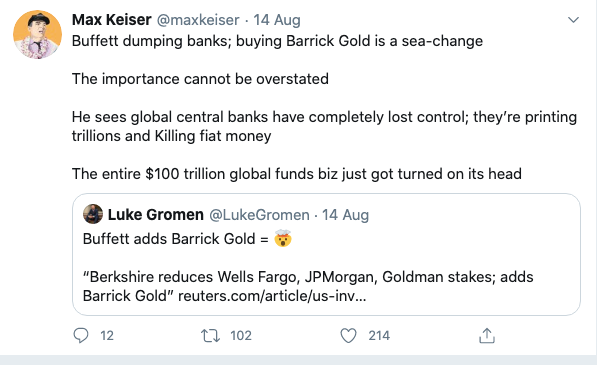 I couldn't agree more, as it is indeed a strong indication of just how unstable things have become and just how much risk is present in today's financial markets around the globe.
In Conclusion
Even without those moves by Mr. Buffett—moving into the gold markets while also shedding some of the largest banking names in the world—the fundamentals for precious metals remain rock solid.
But his actions only further support the fundamentals and will help perpetuate the positive trend higher for both gold and silver bullion as we move forward.
Additional institutional investors are already taking notice of the moves Warren Buffett has made, and as many of them have in the past, will follow in his wake in the coming days, months, and years.
Prices will gyrate, and volatility will be extreme.
However, a steady increase higher is all but assured at this point as the metals account for the historic amount of fiat money that the world has created out of thin air and which will never be taken back out of the system.
Remember, the trend is your friend until the end, and the trend for precious metals is strong indeed.
Stay safe and keep stacking.
Product Upselling Spotlight
The more you know, the more wisely you invest.
Feeling inspired to invest in silver? Browse our selection of silver bars, coins, or our exclusive Sprott Silver.
Top Pick
2021 1 oz Canadian Maple Leaf Silver Coin
Top Pick
Royal Canadian Mint 100 oz Silver Bar
About Sprott Money
Specializing in the sale of bullion, bullion storage and precious metals registered investments, there's a reason Sprott Money is called "The Most Trusted Name in Precious Metals".
Since 2008, our customers have trusted us to provide guidance, education, and superior customer service as we help build their holdings in precious metals—no matter the size of the portfolio. Chairman, Eric Sprott, and President, Larisa Sprott, are proud to head up one of the most well-known and reputable precious metal firms in North America. Learn more about Sprott Money.
Learn More
Subscribe to Our Email Newsletter
Don't miss a single insight. Get the latest precious metals news sent to your inbox every week, including content from Eric's Weekly Wrap Up and Ask The Expert.